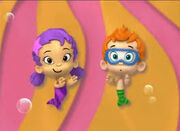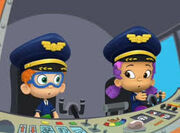 So this is the final part of an OonaxNonny Love Story. So I'd probably give it my best shot! Now comes the final part! Hope you all like it!!!!!
I Love You! ( Final Part )
Edit
Since Deema and Goby ended up together how bout' our main characters Oona and Nonny.
One day....
Oona : Ain't that Goby and Deema?
Nonny : Yeah. I feel kinda bad.
Oona : For what?
Nonny : For breaking Deema's heart..
Oona : Sssshhh no need her heart's repaired and now is happy.
Nonny : Well yeah. ( Sits down at a nearby bench )
Oona :( Giggles and goes and sits with him )
Oona : I Love You Nonny. ( Lies her head on Nonny shoulder )
Nonny : You really mean it?
Oona : Yeah.
Nonny : I Love You too.
Oona : With all your heart?
Nonny : With all my heart. And I promise not to hurt yours as well.
Oona :(Smiles)
Nonny :(Smiles back at her.)
THE END
THANK YOU FOR TAKING YOUR TIME READING MY STORY REALLY APPRECIATED IT! :)
The Story for deema x goby is here! BG DeemaXGoby I'm in love whith my best freind